Art Print
Are you looking for an art print for your business, exhibition, retail, museum or art gallery? We cater for all these and more! Superchrome is a leading large format print company and we supply all products required for exhibitions, seminars, sports events and trade shows.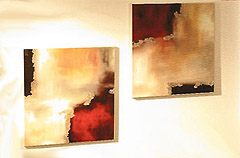 We have an easy to use upload artwork system on our website so that you can upload your digital images. We aim to deliver your art print within two days.
Art Print on a variety of substrates
Superchrome print onto a wide variety of substrates and if you do not see what you need in our list, then we can source whatever you want. We are a flexible company and enjoy custom orders. We can print your art print onto a variety of papers such as graphic paper, blue backed papers for posters, canvas including heavyweight artist quality or fabric canvas to make beautiful bags.
We print onto silver and gold paper and we did this for MTV recently. We can print onto wallpapers, self-adhesive vinyl, graphic paper and photographic paper, films for backlits such as duratrans and 100gsm poster or 135gsm poster paper.
Superchrome can put your art print onto floor graphics, wall graphics, window graphics, hard boards such as foamex, which are ideal for display panels at exhibitions. We can even print onto satin paper, perforated vinyl or contra vision, acetate, heavy backdrops. As you can see, we can put your art print onto any substrate!
Art Print Size is no Limit for Superchrome
Choose from A4 to A20 for canvas. We can go larger for substrates such a PVC vinyl banners or heavyweight canvas. Ask our team of representatives for sizing details, but remember we are a large format printing company who enjoy a challenge. We can put multiple banners together to create one huge one. If you are looking for a simple, large canvas art print for your home or business – you have come to the right place! We use the best in printers and long lasting UV inks so your print will not fade.
There are many finishing and hanging options available.
Order your Beautiful Art Print today
If you have any questions, please contact Superchrome in any of the following ways:
Superchrome is looking forward to speaking to you.
CONTACT SUPPORT
Every file that you upload will be managed by an account representative to ensure that your
order receives the attention it needs.