Art Print On Canvas
Superchrome, based in London, have offices worldwide. We are experts in wide format printing, art print on canvas and finishing. We supply exhibition equipment worldwide. Whatever your printing needs we will be able to help you achieve your project deadlines with our fast and efficient services and friendly team of printing experts. We have printed special projects for many TV shows such as MTV and Super Size v Super Skinny. You can be assured of excellent speed and a fantastic quality service with Superchrome.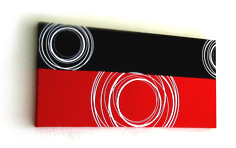 Expect the Best Art Print On Canvas
Expect the best art print on canvas for your business or home. We reproduce acrylic, oil and watercolour paintings using our bank of HP Designjet wide format printers to ensure your art print on canvas looks as good as the original.
We print from your original or your digital images. We can also print fine art onto to quality, heavyweight artist canvas and colour match to the original painting. This service is often used by museums, art galleries and auction houses to create a replica of a priceless painting that is to about to go on display or is intended for auction. Size is no limit, because we can print from A4 to 2A0 and even up to 2 m x 2 m in some cases.
If you have a favourite digital image, it is so easy to order a canvas. Upload your image to our website and fill in the quick form. We will print onto your size and choice of canvas and aim to deliver to your home or business in two days or less.
Go ahead. Select your size of art print on canvas from the list below and choose from a range of finishes.
Choose A Special Finish for your Art Print On Canvas
There is a choice of stretched or unstretched canvas and framing and hanging options. Choose from matte or satin gloss finishes and varnish sprays to ensure your art print on canvas lasts a very long time.
Order your Art Print on Canvas today
Superchrome looks forward to speaking to you. If you have any questions, please contact Superchrome in any of the following ways:
Superchrome is waiting to send your art print on canvas within 48 hours.
CONTACT SUPPORT
Every file that you upload will be managed by an account representative to ensure that your
order receives the attention it needs.