Art Canvas Digital Prints
Art Canvas Digital Prints
Are you looking for a fantastic digitally printed canvas for your office, retail outlet or home? Do you have many amazing photographs that you wish you had printed? Are you an artist looking to print your brilliant photographs onto top quality canvas so that you can sell them for the best prices? Look no further. Superchrome is a large format digital printing company and we specialise in printing art canvas digital prints for the home and the office.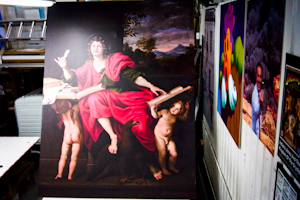 Art Canvas Digital Prints Look Like The Original
Superchrome will print your digital photographs onto top quality canvas. Let those digital images out of the memory card so that Superchrome can print them and help bring your walls to life with beautiful art canvas digital prints.
Your digital images turned into art canvas digital prints will look vivid and colourful with our top of the range HP large format printers. We use the best in quality UV inks to ensure your print looks stunning. Superchrome has a team of colour matching experts. They colour match from your original image and will enhance the image too. Your art canvas digital prints will look just like the original and may even look better! We can also retouch and repair images to ensure they look perfect.
Any Size Art Canvas Digital Prints for your home or office
We print in sizes from A4 to A20 so that you can fill a wall with art canvas digital prints if you wish. Select your size after upload of you artwork. It's easy to upload your images to our website and fill in the simple online form. Look at the top right of our website for the upload artwork link. If you do not have digital images and wish to order from an online gallery we can do that too.
Order your Art Canvas Digital Prints today
Are you ready to order or upload your images? If you need more help with uploading, form filling, wish to use our online gallery or have a complicated custom order our fantastic team of professional designers are always ready to help!
If you have any questions, please contact Superchrome in any of the following ways:
Superchrome is eager to send your art canvas digital prints within two days.
CONTACT SUPPORT
Every file that you upload will be managed by an account representative to ensure that your
order receives the attention it needs.