Abstract Canvas Print
An abstract canvas print is a fantastic addition to your home or office. Now you can purchase your very own Salvador Dali abstract print on canvas or a Pablo Picasso, who pioneered Cubism, or choose a contemporary abstract artist such as Damien Hurst. Superchrome use the best in UV inks to prevent your canvas from fading and we have superb colour matching experts who will ensure your print will look the same or better than the original. Choose Superchrome for vivid and durable canvas prints.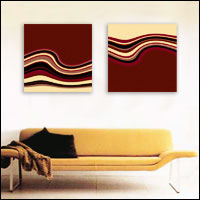 Abstract Canvas Print for Artists, Museums and Auction Houses
If you are an abstract artist, you could use our fantastic digital imaging service to scan in high resolution and print copies of your original art. This is an ideal way to create canvas limited edition print runs on top quality canvas. We often provide an abstract canvas print for museums and auction houses.
Choose from stretched or unstretched canvas and sizes go from A4 to 2A0. We offer a range of finishing products from colour varnish sprays to matte or satin canvas and framing. We print on top quality canvas. The highest quality canvas is heavyweight artist grade and we can print sizes up to 2m x 2m. We can also print your abstract canvas print onto fabric canvas to make bags, shoes and backdrops for theatres.
Abstract Canvas Print is inexpensive
Your abstract canvas print is inexpensive due to Superchrome using the most cost effective ways of printing. We use the latest HP Designjet technologies and eco-friendly UV, latex and eco-solvent inks for printing. We can print as many copies as you wish and the more you order the greater the reduction in price.
Superchrome can source abstract art for your abstract canvas print from our gallery of images or customers can upload the image of their choice via our website. This makes ordering so easy! Fill in the online form, choose sizes and finishes, and let Superchrome do the rest.
Order your Abstract Canvas Print Today
Thank you for visiting Superchrome today. We look forward to helping you with your order. We are happy to help with any size custom order.
If you have any questions, please contact Superchrome in any of the following ways:
Superchrome is waiting to send your abstract canvas print within 48 hours.
CONTACT SUPPORT
Every file that you upload will be managed by an account representative to ensure that your
order receives the attention it needs.