SILK SCREEN PRINTING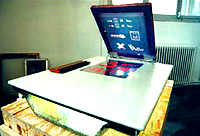 Are you in the outlook for doing something different in printing? Then you have reached the ideal website of Superchrome where we are a step forward in silk screen printing. You can opt for Superchrome UK if you are keenly interested in silk screen printing solutions. We are devoted in supplying top quality silk screen prints. You can get your t-shirts, hats, banners and posters printed using the silk screen technique.
Apart from other technologies, the silk screen printing technology offers versatility in its entire work. Stenciled screens are used for this printing which is made on silk. Printing is done by applying a special type of ink on the surface of the stenciled screen to produce high quality images without fading. Superchrome also offers screen printing on wood, cardboard, fabric, glass, plastic or in paper. Our silk screen products are of great demand all over the world.
The silk screen printing done at Superchrome is with accuracy and contrasting features. Our talented artists check the quality of prints during each phase of the production. Our silk screen printing is available at a cost effective rate also. We also provide the silk screen printing kits that can help you to create your own prints without any professional guidance.
You can select the art from our online gallery and inform us the media in which you want them to get it printed. We will provide you in return some astonishing serigraph pieces (an image made using silk screen printing) that can enrich the beauty of your interiors. All you have to do to get your own artwork printed is just to send us your unique piece of art and we will make it a fine serigraph.
Contact us now for placing your orders through email or phone. So don't hesitate to call us at: 020 7237 9333. You can email your queries at: sales@superchrome.co.uk

CONTACT SUPPORT
Every file that you upload will be managed by an account representative to ensure that your
order receives the attention it needs.