SILK SCREEN PRINTER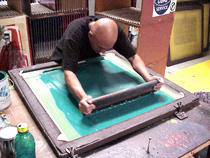 Quite tired after the endless search for a fast and reliable silk screen printing company to entrust your work? You have finally reached the site you were searching for. If you are an art lover who is looking for something new like to print your T-shirts, pants, hats, jerseys, and even bags using a silk screen printer. We are Superchrome, a well recognized and the first name for professional silk screen printing. Based in UK, we have been successfully printing a comprehensive variety of products for retailers, advertisers, designers, businesses and artists. With our silk screen printer techniques, we print all sorts of advertising and miscellaneous products ranging from posters, banners and fabric prints.
Unlike the traditional printing technologies, our silk screen printer is known for its versatility and work efficiency. Printing, here at Superchrome, is done using a fabric screen and a stencil through which ink is pressed to the top side of the screen to produce a sharp-edged image. The printer has an applicator to force the ink through the fabric screen. As a result, the ink passes only through the part of the stencil that has been cut. That means unlike engraving or lithography, the surface need not have to be printed under pressure.
We make use of the high quality screen printing inks to print on a variety of materials, such as textiles, wood, paper, ceramics, glass, metal, and plastic. We use different types of silk-screen printers with the screen frame connected to the base and silk screen printers with a separate screen frame and base. Simply select the type of decoration that you would like for your outfits or any other fabrics from our online gallery, we will print and deliver them right at your doorsteps.
If you would like to know more about our silk screen printer or are planning to place your orders, then contact us at 020 7237 9333 or fax 020 7237 9444 or email sales@superchrome.co.uk

CONTACT SUPPORT
Every file that you upload will be managed by an account representative to ensure that your
order receives the attention it needs.