professional digital printing
professional digital printing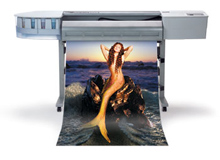 Welcome to Superchrome, the professional digital printing company in the United Kingdom. We are an established large format digital printing company providing a wide variety of printing services and solutions to clients across the world. Since inception, we strive to remain at the forefront of the digital printing industry and have earned a solid reputation among our clients. Being a professional digital printing company, Superchrome has sufficient resources and capabilities to accommodate every printing demand of our clients. Printing services offered here are unlimited. We provide professional digital printing services for artists, museums, galleries, photographers, marketing agencies, designers, individuals and trade show organizers. We can digitally print your images on a variety of substrates with extraordinary colour tones and sizes from wallet to life size.
Our professional digital printing has several advantages over traditional methods, especially lithographic printing. Utilizing our state-of-the-art digital printing and graphic designing capabilities, we create eye-catching and effective posters, banners, billboards, signs, vehicle graphics, brochures, postcards, logos, business cards, catalogs, newsletters, folders and flyers in a professional manner. Without using films or plates, our digital color printing press has the capability to create prints directly from computer files.
Our professional digital printing services are ideal for photographic reproduction. Superchrome can turn your digicam snaps into poster prints of any required size. We can print from diverse file formats; in any formats of your choice. We also accept digital files on zip disk, CD in the formats of .tif, .jpg, .eps, .gif and .psd or via e-mail or our ftp server. Moreover, we have an online gallery featuring a variety of images, paintings and photographs of world famous artists.
In addition, we also offer finishing services such as laminating, mounting, matting, framing and stretching services on request. Kindly contact us either at 020 7237 9333 or at sales@superchrome.co.uk for advice and assistance regarding our professional digital printing services.
If you would like to know more about
professional digital printing
, any of the projects shown or if you want to discuss any project you have coming up then contact us
020 7237 9333
or fax
020 7237 9444
or email
sales@superchrome.co.uk
. Our experienced personnel would be able to guide you appropriately.
CONTACT SUPPORT
Every file that you upload will
be managed by an account
representative to ensure that
your order receives the
attention it needs.