print making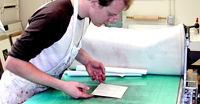 Welcome to the digital world of Superchrome that can offer you the best in print making. We are the fashion arbiter in printing technology in UK. You can reach for the latest prints, engraved with astonishing beauty of fine art digital print. Explore the real beauty of our online prints that can give your interiors a marvelous look. Our experts are talented in making excellent original pieces of artwork for you.
Superchrome can offer you the latest technology in all print making works. Our products have a perfect blend of fine quality and sharpness that makes us unique among the competitors. We offer the prints on a wide range of media such as water color paint, water based ink, oil based ink etc. We can produce the prints using sophisticated colour schemes and also in various shapes and sizes as per your request. We also have an efficient and professional group force that can ensure timely delivery of your orders.
Decorate your office interiors with our unique art pieces and get applause from your clients. We offer a wide range of services to all business groups, public or private agencies, individuals, corporate groups and many others. We can reproduce the images that you wish to be with you always. All our print making products are guaranteed for decades.
At Superchrome, we offer excellent quality prints at affordable prices. Our online galleries are enriched with classic paints as well as with masterpieces of great painters. If you have any wild imagination, then we can help you print that on real canvas. We have immense potential to make your dream come true.

Place your orders right now through mail or phone. We offer you the most cost effective prints at the right time. Email us at: sales@superchrome.co.uk. You can also keep in touch with our customer care executive through phone at: 020 7237 9333.

CONTACT SUPPORT
Every file that you upload will
be managed by an account
representative to ensure that
your order receives the
attention it needs.