portable banner stands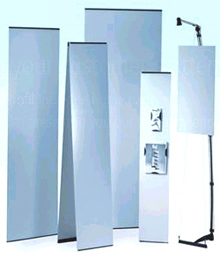 Are you searching for a company that can offer you the best portable banner stands? Then Superchrome is the best option for you. We are a leading digital printing company in UK. Our banner stands are light-weight and easy to use. Would you like to experiment these banners? Visit our online gallery and choose the best option for yourself.
Superchrome is specialized in producing potable banner stands. We also have a fine business in large format digital prints, poster printing, photo printing, digital signage, etc. They can be worked on both vinyls as well as mesh banner as per your requests. Superchrome has proved its talent in advertising business projects as well as construction sites on banners.
Superchrome produces a wide range of retractable roller banner stands. It is similar to a movie screen. It has a recoil mechanism which helps to rewound to its base. The graphic can be easily unrolled without any difficulty so it is mainly used at the exhibitions, shops, presentations, trade shows and in promotional events. They are easy to transport and can be set up easily. The heights of these banners are adjustable.
The twist banner stand offered by Superchrome can be set up on lower costs with paper or canvas material and can provide high definition images. The twist banner stand is eye catching, stylish and durable. The main feature of this banner is that it can link two banners using twisted frames. You can try these banners at your office or at any special occasions to give that event a grant outlook. These portable banner stands are a best choice for your galleries or art exhibitions.
We are dedicated to work for customer satisfaction. You can place orders for both single and double-sided portable banner stands. Contact us through e-mail or phone: sales@superchrome.co.uk or just dial our customer care service at: 020 7237 9333.

CONTACT SUPPORT
Every file that you upload will
be managed by an account
representative to ensure that
your order receives the
attention it needs.