outdoor banner stands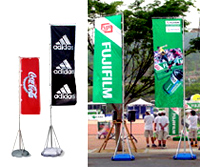 Are you in search of outdoor banner stands that can withstand harsh weather conditions? Then, you are at the right place. Here at Superchrome, a reputed name in the field of large format digital printing, offers outdoor banner stands which have all qualities that you are looking for. Having several years of experience in the banner stand making, we know what our clients' requirements are and what their demands are for their outdoor advertising and promotional needs.
Being UK's leading supplier of a variety of quality banner stand displays, Superchrome offers outdoor banner stands in various styles, finishes and sizes to meet diverse graphic needs of our clients. Our outdoor banner stands are perfect for great outdoor advertising, outdoor tradeshows and other outdoor events like sports meetings and concerts. We also supply outdoor banner stands specifically designed for shops, restaurants, businesses, lobbies and high traffic areas.
Here at Superchrome we offer horizontal, vertical, single-sided and double-sided models of stands. They are made to support and display large graphic banners and flags. They are suitable for vinyl graphic panels, fabrics and mesh banners. Our lightweight, single or double-sided outdoor banner stands are normally supplied with full color PVC weather resistant fabric graphic and are available in 2000mm and 3000mm widths.
Our outdoor banner stands are highly versatile in terms of portability, adjustability and reusability. They are very easy to assemble and dissemble. Moreover, they are lightweight for easy transportation. As they are constructed with modular assembly of components, they can be set up in minutes. Unlike indoor banner stands, outdoor banner stands are extremely durable and robust in harsh weather conditions.
If you want to know more information about the outdoor banner stands we manufacture, please log on to our website, www.superchrome.co.uk, or contact us directly by calling 020 7237 9333 or e-mailing at sales@superchrome.co.uk

CONTACT SUPPORT
Every file that you upload will
be managed by an account
representative to ensure that
your order receives the
attention it needs.