large format prints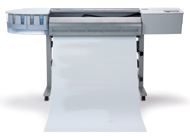 With the advancements in printing technology, large format prints have become an essential tool in advertising. Superchrome, a leading large format digital printing company offers high quality large format prints for all types of needs.
Superchrome can create large format prints for all your business and home applications. We print your images directly onto a material without the use of any intermediate medium. Hence you will get the images with more clarity and it also enables us to customize your images. The materials we use include vinyl, canvas, polymers, photographic paper, matt paper, translucents, foamex, plastics, or even cloth.
Superchrome's large format digital printing technology allows you to transform your small black and white images or photos into any size of large colour banners, posters vehicle and building wraps, exhibition signage, portable displays, and many others. Our large format digital prints have high colour combinations, excellent clarity, high quality printing value, personalization of images, and on time production.
All these services are accompanied by our skill and experience. Here, at Superchrome, we have a team of skillfully trained and knowledgeable artists and graphic designers who work together to fulfill each of your specified printing need. They are experienced in handling the latest high resolution graphics and layout programs and advanced equipments. They are also aware of the tastes and preferences of their clients.
We give much importance to customer satisfaction and always maintain a healthy relationship with our clients. So please feel free to voice your suggestions. If you would like to know further more about our services, you can contact us through sales@superchrome.co.uk or by a phone call: 020 7237 9333 (UK).

CONTACT SUPPORT
Every file that you upload will
be managed by an account
representative to ensure that
your order receives the
attention it needs.