framed canvas prints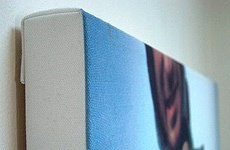 How about beautiful, custom framed canvas prints mounted on your living room wall? Imagine the pride you will feel when your guests admire and envy your home décor. Our eye-catching framed canvas prints are sure to add glory to the luxury settings of your home or office. Are you thinking of whom to approach for accomplishing framed canvas prints? At this moment, you have entered the website of Superchrome, the large format digital printing company in UK. Known for excellent customer centered service and years of experience, we are the one stop solution for a variety of printing needs.
Here at Superchrome, we make use of a range of canvas materials from water resistant canvas to fast dry glossy canvas, fast dry matte canvas, coated cotton canvas and more. Once the canvas digital printing process has been completed the prints are stretched over a frame and delivered at your doorstep ready to be hanged on the wall. You can choose your favorite frames in terms of colours and styles. We have a variety of frames to choose from including golden frames, antique frames, frames with liner, black frames, majestic frames, wooden frames, pine wood frames, and so on. You can choose the frame size that matches the size of the artwork you wish to frame.

Printed on Canvas + Seal
Plus Design: £95
Discount Prices
Canvas Prints
x1
x4
x10
A2: 420x594mm, 16.5x23.5"
£ 48
£ 154
£ 296
A1: 594x841mm, 23.5x33.25"
£ 65
£ 214
£382
A0: 841x1189mm, 33.2x46.8"
£ 74
£ 235
£ 441
2A0: 1189x1682mm, 46.8x66.4"
£ 144
£ 488
£ 1080
20x30", 508x762mm
£ 68
£ 218
£ 380
30x40", 762x1016mm
£ 76
£ 239
£ 451
60x40", 1016x1524mm
£ 85
£ 265
£ 518
Canvas Prints Stretched (Frames)
x1
x4
x10
2A0 (1189 x 1682)
£ 288
£ 976
£ 2160
AO (841 x 1189)
£ 145
£ 492
£ 1090
A1 (594 x 841)
£ 98
£ 336
£ 780
A2 (420 x 594)
£ 75
£ 252
£ 600
A3 (297 x 420)
£ 55
£ 192
£ 440
A4 (210 x 297)
£ 30
£ 104
£ 230
Superchrome's framed canvas prints can also be offered as great gifts to your beloved ones. You can also add these prints to your gallery or museum. Visit our online gallery to choose from the endless collections of framed canvas prints. We are sure; you will get the right print you have been looking for. It contains a wider selection of works including still life, drawings, classic, contemporary, landscapes abstract prints, limited edition prints, photography prints, animals and more.
So hurry up, contact us by phone 020 7237 9333 or e-mail us at sales@superchrome.co.uk as soon as possible.

CONTACT SUPPORT
Every file that you upload will
be managed by an account
representative to ensure that
your order receives the
attention it needs.