Exhibition Graphics and printing
Exhibition Graphics and printing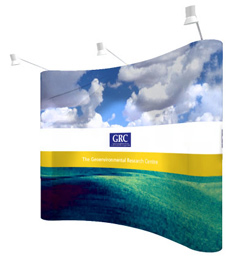 This is a website which welcomes you to Superchrome, the leader in digital printing and graphic design in the UK. Exhibition graphics and printing is our most popular business and our client list will surely prove it. Your needs may be for any project and we make sure that each project will achieve the goal of marketing or selling a product or service. Our exhibition graphics and printing brings out your corporate identities and promotes branding to increase your businesses. It communicates the right visual message to target your audiences.
At Superchrome our graphics design team is very creative in producing solutions to fulfill the needs of small or large businesses which need any kind of application and advertising strategies. The creative concepts and designs take into account your marketing objectives and our exhibition graphics and printing have the apt colour schemes, fonts and uniqueness that can reflect your image. Your target audience will surely turn their heads when our exhibition graphics and printing are there to capture their attention.
Superchrome knows how to promote your business effectively using keen visualization and appealing and professional tactics. Exhibition graphics and printing includes banners, brochures, trade fair graphics, bill boards, safety signs, vehicle wraps, stickers, leaflets, backdrops etc. based on the theme of the event. With proper planning after knowing your requirement, we try to use our imagination and skill to produce stunning printing material for your upcoming exhibitions. Superchrome is sure to increase your business, build up your image and brand your product or service.
If you are truly interested in our exhibition graphics and printing, we will inform you more about it when you call
020 7237 9333
or fax
0207 237 9444
or email
sales@superchrome.co.uk
You can also spend a few minutes with us on a live chat if you have the time.
CONTACT SUPPORT
Every file that you upload will
be managed by an account
representative to ensure that
your order receives the
attention it needs.