exhibition graphics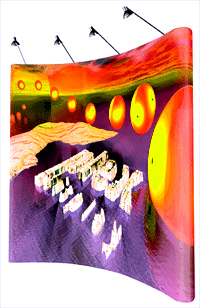 Are you in need of any attention-grabbing exhibition graphics? Then come to Superchrome, a leading printing company with a mark of distinction in quality and service. Stunning and meaningful exhibition graphics create great impact for your services and products.
Superchrome excels in large format printing technology with its latest printing machines and materials. Exhibition graphics find enormous applications in advertisement displays and trade shows for conveying messages effectively. Our professional graphic designers are capable in creating miracles in colour, layout, illustration, and artwork. We can turn your business and product names, logos, labels, signage, business cards, posters, and brochures more appealing and impressive with the help of our exhibition graphics. We also give an opportunity to our customers to add their views regarding the graphics and colour schemes.
Exhibition graphics created in digital files are printed onto canvas, photographic paper, vinyl banners, billboards, backlit films, and fabric using large format printers. High resolution and color liveliness of prints give each design an authentic outlook. Presentation of your products with the help of exhibition graphics develops a deep impression in the minds of the visitors even when the exhibition is over. This high-end technology promotes the identity of the firm too.
Superchrome also provides exhibition stands, display panels, banners, foamex panels, and pop up stands for displaying your products in an attractive manner. We also perform other value added services such lamination, mounting, and encapsulation. We offer competitive quotes for creating unique exhibition graphics within the deadline. You can also get discounts for big orders.
Trustworthiness, reliability in quality, efficient customer service and our experience can be counted for a best business deal. To know more about exhibition graphics and other related products call us at 020 7237 9333 or email sales@superchrome.co.uk.You can also use our live chat facility at any time.

CONTACT SUPPORT
Every file that you upload will
be managed by an account
representative to ensure that
your order receives the
attention it needs.