exhibition graphic and printing
exhibition graphic and printing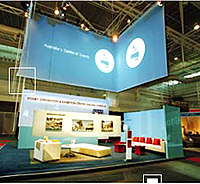 Are you in need of exhibition graphic and printing of high quality? Then come to Superchrome for all your needs of printing and exhibition graphic. We always do our best for rendering quality service and products at affordable costs.
Stunning and innovative exhibition graphic and printing can create high visual impact in advertisements, tradeshow displays, and even in interior designing. Our professional graphic designers make all their effort to develop exhibition graphic and printing to capture the attention of passers-by and communicate effectively. They produce magic in exhibition graphic and printing with colours, illustrations, photography, and artwork.
High resolution photo realistic images printed with UV proof inks which give colour stability and durability for prints. Large format UV solvent printers and Dye printers are assigned to generate outdoor and services of lamination, mounting, and encapsulation of prints.
Exhibition graphic and printing gives your product names and signage an incredible impression in the minds of the viewers. This high-end technology in Superchrome provides more coverage for products and recognition for your brand name. You also can go for minimum runs of prints without any additional charges. We assure you quick turnaround and efficient customer service at any cost.
Surperchrome has trade partnerships with advertisement agencies, trade show consultancies, interior designers, galleries, and museums. Our expert team always tries hard to exploit every aspect of exhibition graphic and printing for producing the maximum output.
Please ring 020 7237 9333 or email sales@superchrome.co.uk for fast response. You can have live chat with our customer representative to know more about exhibition graphic and printing.

CONTACT SUPPORT
Every file that you upload will
be managed by an account
representative to ensure that
your order receives the
attention it needs.