Exhibition graphic and design
Exhibition graphic and design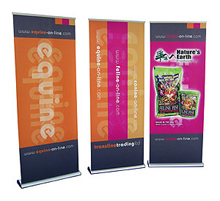 Exhibition graphic and design creates a new trend in industry of advertisement, marketing, and interior designing. Do you want to implement the essence of this new technology to your products or services? We, at Superchrome, can help you use exhibition graphic and design in a cost effective manner.
Superchrome is a leading printing company which gives due importance for quality products and services. Exhibition graphic and design are used to convey messages deeply and effectively in mega events, trade fairs, advertisements, and interior design exhibits with the help of this modern technology.
Our exhibition graphic and design professionals exploit the possibilities of colour, composition, illustration, photography, space and environmental design even in three dimensional ways for making each graphic and design more genuine and appealing. We use the latest software such as Photoshop, AutoCAD, 3d Studio Max and Illustrator for creating exhibition graphic and design.
Exhibition graphic and design are printed on to canvas, photographic paper, vinyl banner, fabric, and backlit films using state of art large format digital printers and high grade inks. Our professional team makes full use of the space in an exhibition scenario creatively for displaying the products and captures the minds of the visitors.
Exhibition graphic and design gives your product names impressive recognitions among viewers which in turn promotes the business to greater heights. Our clients are mainly advertisement agencies, tradeshow consultancies, museums, and interior designers.
Other than exhibition graphic and design we also provide exhibition accessories such as exhibition stands, banners, and foamex panels. Our competitive quotes are best in the market. High quality final outcome, quick turnaround, and reliable customer service are always guaranteed at any cost. We also render value added services of lamination, mounting, and encapsulation within deadlines.
Want to know more about exhibition graphic and design? Then call our customer representatives at 020 7237 9333 or email sales@superchrome.co.uk..
CONTACT SUPPORT
Every file that you upload will
be managed by an account
representative to ensure that
your order receives the
attention it needs.