digital print services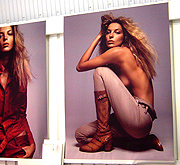 So you are in need of a reliable company to entrust your digital printing works. Well, then you need not waste your time surfing the net further. What kind of digital print services do you need? Whether you need attractive Business Cards, Flyers, Brochures, Posters, Postcards, Catalogs, Labels folders, booklets, letterheads, stickers, door hangers and other printed peripherals, Superchrome has the provision to accomplish all your needs. Based in UK, Superchrome offers a variety of indoor and outdoor advertising digital print services.
We utilize the latest and most sophisticated digital printing technology available today. A notable characteristic of our digital systems is excellent workflow efficiency. We utilize specialized 8 to 12 color ink-jet printers. Our printing technology is designed to carry out work at the fastest possible speeds without sacrificing the image quality of the prints. To ensure high image stability, we make use of pigment printing process. Our printers can produce rare mixture of colors that is not possible to range with other technologies.


Superchrome has gained an unquestionable client satisfaction with regard to every printing project we undertake, from small graphics panels to large exhibition displays. Distances and deadlines are no matter of concern for our digital print services. We can provide on-demand or short-run color digital printing services. We give our customers the opportunity to determine the number of copies and on what date they should be ready. Our short print runs have the advantage of low set up costs. It can be printed on common paper or photographic paper, cloth, film, or vinyl to provide exceptionally detailed prints.
Need our help? We are within a few clicks of the mouse. If you need complete product information, instant price quotes, or place your order, contact us at email sales@superchrome.co.uk or call us at 020 7237 9333or fax at 0207 237 9444.

CONTACT SUPPORT
Every file that you upload will
be managed by an account
representative to ensure that
your order receives the
attention it needs.