Outdoor Banner Printing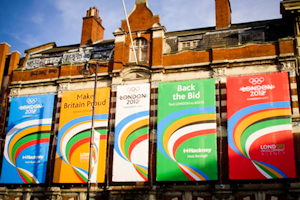 Do you require an outdoor banner for localised and national marketing, new ventures, promotional event signage or exhibitions? Using the latest printing technology, we can produce high quality outdoor banner printing services that will withstand all outdoor conditions without sacrificing the vibrancy and definition of your message. All banners are fully finished and hemmed for additional protection. If need be we can also offer anti-graffiti laminates.
London Digital Outdoor Banner Printing
Our London
outdoor banner printing
services make use of waterproof, UV resistant solvent inks. This means their exciting colours last longer and repel any potential fading due to heat, rain and light exposure. We print on industry standard, tear-resistant materials that are suitable for all weather conditions such as vinyl or PVC. With industry leading digital printers that are able to print in large and wide format, Superchrome can print
outdoor banners
in varying sizes, colour combinations and specifications for each client, from large corporations and non-for-profit organisations to small businesses and individuals. With expert precision, all our outdoor banner printing features outstanding print quality and design. When cost-effective outdoor advertising is required, Superchrome can provide reasonably priced banners for promoting your products and services. Our affordable large format
outdoor banner printing
services are carried out quickly yet professionally and offer much flexibly in installation. It doesn't matter what the availability of space is, your
digitally printed banner
will be produced in a high resolution with excellent quality colour and graphics so to gain maximum public attention.
London Vinyl, Mesh, PVC Banner Printing Services
Whether you need to advertise for an exhibition, private event, sporting occasion or corporate function, our expert designers and printing specialists can process your
outdoor banner printing
in a truly proficient manner within the minimum turnaround time. We pride ourselves on our accurate quoting, friendly customer service and customised options which allows you to be completely satisfied with the printing process and end result. If you think that our London
outdoor banner printing
and large
banner printing services
may be the ideal solution to your advertising needs or would like to get a better feel for the services that we provide either continue browsing our website or go ahead and contact us by telephone on
020 7237 9333
or email at
sales@superchrome.co.uk
.
CONTACT SUPPORT
Every file that you upload will
be managed by an account
representative to ensure that
your order receives the
attention it needs.