Custom Banner Printing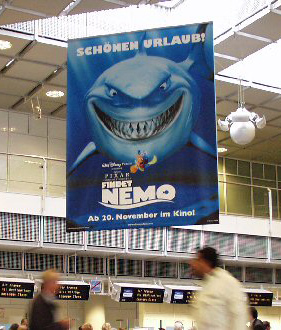 Superchrome is a digital printing company that specialises in providing custom banner printing for a comprehensive range of clients in London and all over the UK. We are known for offering quality banner printing services, but it is our customised banners that really stand out and get noticed. Our customised services cater to almost every requirement in modern advertising and display. Whether you are celebrating an event or advertising your services, we are sure to have a product to suit your needs.
The options for our
custom banner printing
are endless, from the printing materials and substrates to the signage, specification and colouring. Choose from a range of high quality graphics, specialised signage, stands and support structures, inks, colour, borders, special effects and finishes. You are sure to design a winning combination that is striking enough to catch immediate attention.
London Digital Custom Banner Printing
We can make your
custom printed banners
suitable for the outdoors by completely weatherproofing the banner as well as using UV resistant inks to prevent fading due to constant exposure to light and heat. Made from strong and durable materials, our banners create a great visual impact without sacrificing the sturdiness of the banner. They are also flexible and completely portable so that you may display your message in different places depending on your needs.
London Vinyl, Mesh, PVC Banner Printing Services
If you are professional graphic designer or just someone with creative ideas, our customer service team will guide you through the design process and work with you to create
custom banner printing
that meets your specifications. The team at Superchrome consists of expert, practically experienced professionals in design and printing who always aim at making all banners unique and eye-catching. Each banner is designed in a cost-effective manner and so our signs are the ideal solution for all commercial and private needs. And at the end of the printing process, expert installation allows your banner to receive the notice it deserves. So regardless of whether you are a large business, a non-for-profit organisation or just simply planning a big family celebration, our
custom made banners
services will suit each and every individual need. For more information about our comprehensive printing services, please continue to browse our website or otherwise don't hesitate to contact us by telephone on
020 7237 9333
or email at
sales@superchrome.co.uk
. Take advantage of our
customer banner printing
today!
CONTACT SUPPORT
Every file that you upload will
be managed by an account
representative to ensure that
your order receives the
attention it needs.