PVC BANNER
PVC banner applications
The process of digital printing on a PVC banner can be used for a number of indoor and outdoor applications including trade show stands, promotion of local services, sport meetings, building and scaffold wraps, fundraising events and music festivals.
Types of PVC Banner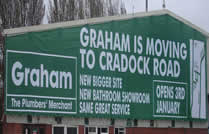 Front lit PVC banner allows some light to go through from the front
Backlit PVC banner is designed to be illuminated from behind and is especially effective for displays at night
Total Blackout PVC banner will not allow any light through
PVC Mesh banners are designed for outdoor use in windy conditions as the perforated fabric offers high wind resistance and is tear proof
WHAT IS PVC BANNER ?
Superchrome uses the latest printing technology to produce a high quality
PVC banner.
Digital printing is a printing method that produces prints directly from a computer file rather than a slide or a photograph, without going through some intermediate medium such as a film negative, a colour proof or a plate. The benefits of digital printing for Superchrome's
PVC banner
customers include faster turnaround times, lowered production costs and the ability to customise artwork for one-off projects.
We can print your
PVC banner
using dye inks, suitable for indoor uses, UV inks for outdoor purposes or solvent inks for maximum performance. We can produce any
PVC banner
size ranging from 0.75m x 1m right through to wide format banners up to 5m wide without a seam and any desired length. Banners can be printed on standard PVC material or on mesh material for extra large applications such as scaffolding banners and building wraps. The
PVC banner
can be supplied in a matte, gloss or satin finish.
Once the printing is over, the PVC banner is trimmed with extra material left around for finishing. Eyelets or buttons can also be applied to the banner. Anti graffiti laminates can be applied on vinyl banner printing especially if used on hoardings or construction sites.
Superchrome's team of professional installers will also carry out the installation and t removal of the banner. They have years of experience in banner installation and are insured, complying with the health and safety regulations for signage in public places. A wide selection of banner stand systems is also available through Superchrome for use at exhibitions and trade shows or in store marketing.
Digital PVC banner printing is frequently used for on-demand or short-run color printing. The printed information is encoded in discrete, digital dots at various resolutions thus providing versatility and enabling scanning into storage and manipulation of data. In short, digital printing is very cost-effective on short print runs, has the advantage of low set up costs, no minimum volume run and can be done on many substrates.
Why choose a PVC banner from Superchrome
Use of the latest printing technology and printing supplies
Between 48 and 72 hours turnaround time
Possibility to retouch the artwork and enhance it to give the banner the best imaging quality
PVC banners available in any size and format
Best printing quality at very competitive prices
Installation and removal upon request
GRAPHIC FILE REVIEW
Every file that you upload will
be managed by an account
representative to ensure that
your order receives the
attention it needs.