OUTDOOR BANNER
» Click here to View Related Links
The outdoor
banner
is widely employed for aesthetic and display purposes and has also gained popularity in the performing arts sector. The unbeatable combination of versatility and relatively low cost is no doubt the key to their increasing popularity.
Types of outdoor banner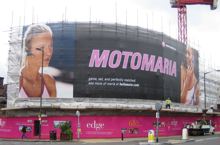 Front lit

- allows some light to go through from the front

Backlit

- designed to be illuminated from behind and is especially effective for displays at night

Total Blackout

- will not allow any light through

PVC Mesh

- specified for outdoor use in windy conditions as the perforated fabric offers high wind resistance and is tear proof

WHAT WE ARE OFFERING
MESH BANNER
was specifically designed to provide a practical outdoor graphic solution for scaffolding displays and building wraps in windy conditions. Mesh is a perforated lightweight fabric that is tightly woven and very strong. Mesh banners are the perfect way to conceal building works or redevelopments. They can also be used as backdrops for outdoor stage performances and music festivals.
VINYL BANNER - particularly effective for promoting local shops and services to get the company's name noticed and increase awareness of its goods or services among local residents for a modest outlay. This type of outdoor banner is also widely used to publicise community activities such as theatrical or music performances, festivals, school fetes, charity fundraising and sporting events.
WHAT WE ARE OFFERING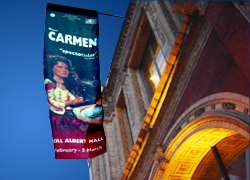 Superchrome has years of experience in outdoor banner printing. We have worked on many high profile projects including supplying wide format banner for cricket test matches at the Oval. Our mesh banners have also been used as stage backdrops for open air theatre performances and music festivals.
Our
outdoor banner
is made from high quality durable 400gsm outdoor vinyl material and comes with a two year guarantee. It is designed to be tough and safe in all weather conditions, come rain or shine. We also use fade resistant UV inks which are embedded into the PVC banner material to keep that great image quality for many years. Each outdoor banner is finished with reinforced hems and eyelets or pole pockets
Using the latest wide format printing technology, we can produce any banner size ranging from 0.75m x 1m right through to wide format banners up to 5m wide without a seam and any length you need.
WHAT WE ARE OFFERING
Normal grade 400gsm outdoor PVC banner material
Lightweight mesh for extra large banners including building wraps
Flame retardant mesh complies with Health & Safety and Fire Regulations
Eco Solvent or UV INKS for high resistance to fading
Custom sizes - virtually any height and length you like.
Reinforced hems and eyelets or pole pockets
GRAPHIC FILE REVIEW
Every file that you upload will
be managed by an account
representative to ensure that
your order receives the
attention it needs.