COREX SIGNS
WHAT ARE COREX SIGNS ?
Corex signs
are inexpensive short term outdoor signs. They are light weight, water resistant and offer six months durability.
Corex signs
are ideal for temporary outdoor signage such as property signs, real estate development signs, political campaign signs, special events signs, sales promotion and construction sites.
Corex signs by Superchrome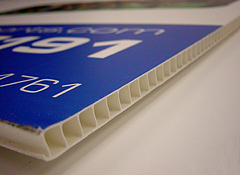 Superchrome is one of the leading suppliers of virtually any size or type of
Corex signs
for both interior and exterior applications. Using the latest printing technology, Superchrome produces high quality Corex signs printed on your choice of colour background for eye catching impact. Our latest flatbed digital printers are capable of printing directly onto sheets of Corex to guarantee you a crease free finish even with large format
Corex signs
.
Corex signs
are made from a type of corrugated plastic also known as coroplast with a similar internal structure to honeycomb. Corex comes in several colours apart from white, including black, blue, green, red and yellow and is the substrate of choice for cost effective signage. All our Corex signs are printed with fade resistant UV ink and are fully waterproof so they are suitable for outdoor use in any weather conditions.
Signage is available in a range of standard sizes to suit every purpose -A4, A3, A2, A1, A0. Custom sizes including large format are also available upon request.
We use mounting material for making Corex signs which makes them rigid to a certain extend. However larger sign sizes will need additional support to maintain their straight profile since the rigidity of Corex is not as high as that of other materials such as foamex or Dibond (a composite of aluminium and Perspex).
Why you should choose Superchrome for Corex signs
Fast turnaround time
One off sign orders and small runs no problem
Friendly service with a good understanding of customers' needs
Free advice on how to make the most of your Corex sign
GRAPHIC FILE REVIEW
Every file that you upload will
be managed by an account
representative to ensure that
your order receives the
attention it needs.