INTERIOR SIGNAGE
What is Interior signage ?
Interior signage
plays a very important role by creating visual impact for advertising purposes, imparting information and helping to direct customer flow around retail outlets, department stores, public buildings, museums, galleries, schools and hospitals. Point of Sale signage is used to highlight special promotions and encourage impulse purchases. Interior signage is also a very affordable way to advertise a brand, product or service at an exhibition or road show.
Types of Interior Signage
>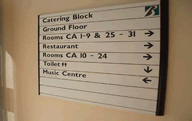 Interior signage
is available as posters, banners, notice boards, LED displays, backlit graphics, self adhesive letters and graphics and signposts. Different types of
interior signage
can be identified according to their method of display and intended usage:
Freestanding supported by a rigid structure that either stands on the floor or can be placed on counters and tabletops for smaller signs. Widely used in retail for POS and POP
Wall mounted such as posters and information boards, mounted to a display system
Suspended interior signage comes in the form of lightweight vinyl banners or more rigid structures hung from chains or wire systems. Used to demarcate specific areas in retail outlets, showrooms, event venues, exhibition halls and restaurants.
Illuminated signage uses printed translucent films on a light box to produce attention grabbing, back illuminated signs that have high visibility impact day and night Applications include often seen on petrol station canopies, shop fascias, exit markers, health & safety displays and exhibition stands.
Self adhesive vinyl is another option for applying signage directly to glass doors, walls and partitions.
Superchrome Interior Signage services
Being large format digital print specialists, Superchrome can supply and fit the most comprehensive range of interior signage on the market. We employ the latest digital printing technology which is very cost-effective on short print runs, has the advantage of low set up costs, no minimum volume run and can be done on many substrates.
Specification
Sizes
- standard sizes for Corex and Foamex signs are A4, A3, A2, A1 and A0. Custom sizes and Large Format signage print are available on request.
Substrate materials
– Interior signage is available on a choice of substrates to suit every purpose:
FOAMEX

is a flexible material which comes in various thicknesses (1mm, 3mm, 5mm or 10mm). It can be used as a backing for signage instead of a frame. Graphics can also be printed directly onto foamex. The main advantages of Foamex are its light weight and durability - up to 10 years.

ALUMINIUM

sheets of 3mm thickness are used as a backing for self adhesive vinyl graphics and lettering and to make signposts.

DIBOND

is a relatively lightweight yet strong aluminium composite material consisting of a polyethylene core covered on both sides with aluminium sheets. Useful for wall displays and notice boards.

SELF ADHESIVE VINYL

graphics and lettering are another option for applying interior signage to almost any type of smooth non-porous surface.

CANVAS & TEXTILES

– mainly used for suspended interior signage and banners.
Features of Superchrome's interior signage:
Design, production and installation of signage
Wide choice of substrates
Complete range of signage solutions from graphics to display systems
Fast turn around time
High quality at competitive prices
Discounts for large orders
GRAPHIC FILE REVIEW
Every file that you upload will
be managed by an account
representative to ensure that
your order receives the
attention it needs.