MATTE/SATIN/POSTERS
WHAT IS MATTE/SATIN/GLOSS POSTERS ?
Posters are an easy and fast way to create visual aids for sales presentation and point of sale display. They are eye catching and attractive and can communicate information effectively and economically. They are also very popular with professional photographers looking to set up an exhibition or amateur photographers looking for a cost effective way to display their pictures in their interior or artists and galleries showcasing art prints.
Digital poster printing is a printing method that produces posters directly from a computer file rather than a slide or a photograph, without going through some intermediate medium such as a film negative, a colour proof or a plate. The benefits of digital printing include faster turnaround times, lowered production costs, and the ability to personalise documents. Digital vinyl banner printing is frequently used for on-demand or short-run colour printing. The printed information is encoded in discrete, digital dots at various resolutions thus providing versatility and enabling scanning into storage and manipulation of data. In short, digital printing is very cost-effective on short print runs, has the advantage of low set up costs, no minimum volume run and can be done on many substrates.
WHAT WE ARE OFFERING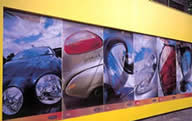 Superchrome's large format posters are available up to any size with a maximum width of 5m. They are suitable for indoor, printed using dye inks, or outdoor applications using UV inks. The substrates we use for our poster printing process includes three main papers: matte paper, a coated paper with a dull, non gloss finish which gives a softer appearance to colours and makes it easier to read text; satin paper, which has a low gloss finish, more lustre than matte but not high gloss, giving an elegant finish to the poster. Gloss paper creates rich and vibrant colours, similar to a magazine paper. Once the printing process is over, posters can be laminated to protect them against scratches and made weatherproof and mounted onto foamex for rigidity.
Superchrome also offers a poster design service. Additional services include poster frames and sign post systems. Discount available on volume orders and large quantities.
Features of a Superchrome's posters: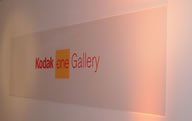 Use of the latest printing technology and printing supplies
Between 48 and 72 hours turn around time
Possibility to retouch the artwork and enhance it to give the banner the best imaging quality
Posters available up to 5m in width
Choice of matte, satin or gloss paper
Lamination and mounting onto foamex optional
Poster design available
Poster frames can be provided upon request
Best printing quality at very competitive prices
For more information, call 020 7237 9333or email: sales@superchrome.co.uk
GRAPHIC FILE REVIEW
Every file that you upload will
be managed by an account
representative to ensure that
your order receives the
attention it needs.