WHAT IS BACKLIT DISPLAYS ?
WHAT IS BACKLIT DISPLAYS ?
» Click here to View Related Links
BACKLIT DISPLAYS ?
Backlit is produced using a backlit film and used for spectacular backlit signs. The light source shines from the back of the image and makes it sharper and easier to see in low lighting conditions. A number of options are available such as matt or satin finish while the film used will depend on whether the application is for indoor or outdoor displays.
Backlit are mostly used in department stores, shop front advertising, hair salons, airports and bus stop signage. Also called duratrans, they can be produced to a size up to 5m in width. They can be printed using dye inks (indoor use), UV inks (outdoor use) or solvent inks depending on the application. Backlit letters can be produced cutting the Perspex to design as opposed to printing the graphic on a backlit film.
Digital backlit printing is a printing method that produces prints directly from a computer file rather than a slide or a photograph, without going through some intermediate medium such as a film negative, a colour proof or a plate. The benefits of digital printing include faster turnaround times, lowered production costs, and the ability to personalise documents. Digital backlit banner printing is frequently used for on-demand or short-run colour printing. The printed information is encoded in discrete, digital dots at various resolutions thus providing versatility and enabling scanning into storage and manipulation of data. In short, digital printing is very cost-effective on short print runs, has the advantage of low set up costs, no minimum volume run and can be done on many substrates.
WHAT WE ARE OFFERING
For bigger sizes, Superchrome's team of professional installers will also carry out the installation and the removal of the backlit. They have years of experience in banner installation and are insured, complying with the health and safety regulations for signage in public places. Perspex light boxes can be ordered through Superchrome. Our light boxes give even light, have a long life and make it easy to change posters.
Superchrome's portfolio includes the production of 800 backlit species cells for an aquarium in Belgium. They were face mounted onto Perspex and installed.
Please note all systems are supplied with graphics. Artwork should be supplied print ready. Price are exclusive of Vat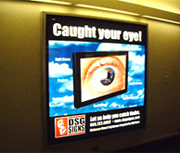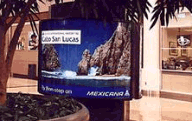 Features of Superchrome's backlits:
Use of the latest printing technology and printing supplies
Between 48 and 72 hours turn around time
Possibility to retouch the artwork and enhance it to give the backlit the best imaging quality
Backlits available in any size or shape
Light boxes can be ordered
Installation carried out on request
Best printing quality at very competitive prices
For More information, Call
020 7237 9333
or Email:
sales@superchrome.co.uk
Exhibition Display
Banner Stands
CONTACT SUPPORT
Every file that you upload will be managed by an account representative to ensure that your
order receives the attention it needs.