CASE STUDIES
» Click here to View Related Links
SWIRE PROPERTIES HONG KONG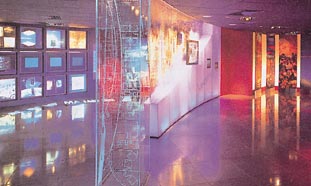 Big City, Bright Light Boxes
Over 50 graphic panels for the new marketing suite of Swire Properties in Taiko Shing, Hong Kong. Acetates and translates up to 2m x 2m were mounted onto a clear polycarbonate and floor sealed. Silver prints were floor sealed and mounted with etched vinyl's onto aluminum walls and windows in the suite. A team of four staff set up a Superchrome satellite in Hong Kong to mount our run-outs onto glass, supplied and made locally, as well as installing all the panels. This team stayed in Hong Kong for 10 days and has not been seen since.
Designed by Mel Studios
CONTACT SUPPORT
Every file that you upload will be managed by an account representative to ensure that your
order receives the attention it needs.