CASE STUDIES
» Click here to View Related Links
MILLENNIUM DOME SELF PORTRAIT ZONE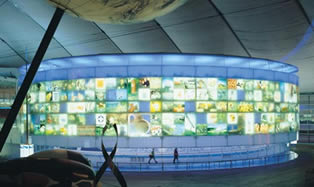 All the things bright and beautiful
The self portrait dome is one of the eight Millennium Dome Projects worked on by Superchrome. Consisting of over 410 high resolution scans, 820 translites, mounted and floor sealed onto polycarbonate for main structure - the largest panel measuring 2224mm x 1117mm; 13 information panels 5m x 1m printed onto adhesive - backed paper floor sealed and installed by our team. 15 information panels 2440 x 1140 printed on translite floor sealed and installed intro bespoke frames. All the above printed at high resolution with UV stable inks over an eight weak period including scanning. Our installation team were involved in all eight ensuring quality control by us from inception to completion.
Designed by Carabiner
CONTACT SUPPORT
Every file that you upload will be managed by an account representative to ensure that your
order receives the attention it needs.