Abstract Canvas Print
Are you looking for a canvas print? How about something that little bit different and ultra modern? Superchrome print all kinds of canvas including the stunning abstract canvas print using the latest digital printing technologies. If you are looking for something beautiful and unique to adorn your walls, simply call Superchrome, the large format printing company today.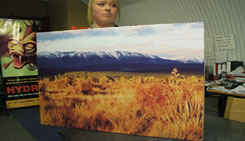 Choose an Abstract Canvas Print to Brighten Walls
We at Superchrome, cater for a huge range of customers. There are many uses for abstract canvas print including homebuyers, interior designers, art galleries, show homes, office buildings, meeting rooms, reception areas, retail stores and for advertising areas.
Choose from a huge range of abstract canvas print, by browsing an online gallery of abstract images including scenery, abstract animals such as cows and pets, patchwork, people, famous artists such as Picasso, leaves, cutlery, wildlife and more. If you have an idea, speak to our team at Superchrome and we will find you the perfect piece of abstract art and print it onto 100% cotton canvas or matte canvas using HP inks. You can expect a stunning masterpiece that will amaze your friends, colleagues and customers.
Abstract Canvas Print and Stretching
Are you an artist with a design ready to be transferred onto canvas? Are you an interior designer looking for a stunning, unusual print for a customer's home or office? Whether you have a print, original art or a photograph or wish to choose from our gallery, we can cater for your needs.
We beautifully stretch canvas over frames if this option is requested. We use internal wooden or aluminium frames. We can print right to the edge of the canvas so that your image spans the sides of the abstract canvas print or we can add a matching colour border.
We offer discounts for bulk orders and print from A4 to huge. Contact us today and specify the sizes of abstract canvas print that you require.
Order Abstract Canvas Print from Superchrome today
Are you ready to order a beautiful abstract canvas print from Superchrome or would you prefer to speak to one of our graphic design team or customer services?
If you have any questions, please contact Superchrome in any of the following ways:
Superchrome is always happy to help with your order.
GRAPHIC FILE REVIEW
Every file that you upload will
be managed by an account
representative to ensure that
your order receives the
attention it needs.