REFLECTIVE OUTDOOR WARMING signs
REFLECTIVE OUTDOOR WARMING signs by PLALIGHT
WHAT IS REFLECTIVE OUTDOOR WARMING SIGNS?
Thinking of purchasing reflective outdoor warning signs? Then you are welcome to Superchrome, a leading digital printing company in the UK offering high quality reflective products. The reflective products we supply are manufactured by leading manufacturers who enjoy excellent reputation and a huge client base. Superchrome's reflective outdoor products are made available at extremely competitive rates.
WHAT WE ARE OFFERING
Our reflective products come into great practical use when marking road barriers,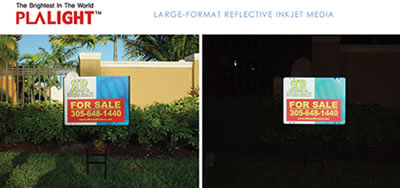 safety equipment, and road safety. We can also supply construction safety signs, speed limit signs, security checkpoint signs, safety zone signs, guard house signs and more. You can use our reflective outdoor warning signs to mark dangerous areas that may not be easily visible otherwise.
Our outdoor warning signs are printed using solvent ink and water based ink to increase their brightness. They are printed on high grade reflective material and bonded on aluminium plate. Our reflective products are highly durable and have UV stability.
We have expert staffs to help you select appropriate reflective outdoor warning signs for your particular purposes. Superchrome mainly aims at complete customer satisfaction and so you don't have to think twice when choosing us. If you need to know more about the reflective outdoor warning signs supplied by us, please visit our website. You can contact us either by calling 020 7237 9333 or fax 020 7237 9444 or email: sales@superchrome.co.uk.

CONTACT SUPPORT
Every file that you upload will be managed by an account representative to ensure that your order receives the attention it needs.