WIDE FORMAT PRINTING
ADVERTISING HOARDING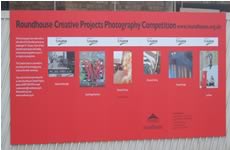 Advertising hoardings of any size and format, suitable for outdoor applications on the side of roads, in construction sites or on buildings are the most eye catching way to communicate information about a company, a product or a service.
BUILDING WRAPS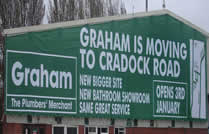 Made of mesh material to let the wind and light go through, building wraps are one of the biggest form of wide format printing available. From the conception and the design to the production, the installation and the removal of the wraps, Superchrome offers a complete solution for outdoor advertising.
MESH BANNER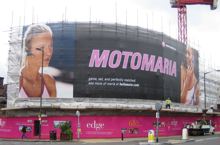 A mesh banner is particularly suitable for windy conditions, letting the wind pass through the banner. Superchrome takes care of the production of all mesh banners and also organises the installation and the removal of the banner according to health and safety regulations for signage in public places.
BILLBOARDS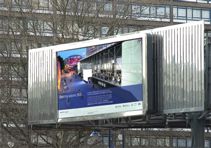 High impact billboards give major advertising presence in towns and cities and on the side of roads. Available in 48 sheets or 96 sheets, billboards offer a creative opportunity to launch a new brands or communicate about an existing one to a targeted audience of young and upmarket customers.
BACKDROP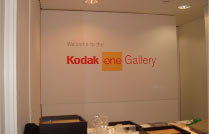 Suitable for theatre stages, on trade show stands, as digital background or seamless backgrounds for photography or in television studios, backdrops can be printed on paper, mesh or vinyl.
WIDE FORMAT PRINTING WITH SUPERCHROME
We are a digital printing company, specialized in wide format printing such as billboards, backdrops, building wraps and advertising hoardings. Our digital printing services also include the production of portable display stands and the supply of art prints and in particular canvas prints and photographic prints for museums and galleries. Promotional signage is very popular with wide format print customers. Digital signage, as opposed to electronic signage, is very cost-effective on short print runs, has the advantage of low set up costs and can be done on vinyl banner and mesh banner. Advertising hoardings for buildings and construction sites as well as vinyl banner printing projects for a display board can all be carried out by Superchrome.
Our exhibition department offers portable display solutions such as banner stands, roller banner stand, twist banner stand, banner sign and banner for exhibition on vinyl. The Chronoexpo banner stand display range is our best selling product. Also popular for events are straight photo printing and digital poster printing in the UK. Alongside our large format digital printing services, we also offer digital photo printing services suitable for professional photographers. Our photo printing is available either as full color printing or black and white print. Finally, private customers looking for large format digital services use us as a poster printing company or request our digital photo printing and canvas digital printing services for their interior design needs.
CONTACT SUPPORT
Every file that you upload will be managed by an account representative to ensure that your
order receives the attention it needs.