Advertising Hoardings
An
advertising hoarding
is a large outdoor signboard found in places with high traffic such as the sides of major roads and motorways or on sides of buildings in city centres which displace large advertisements to pedestrians and drivers. They can also used to screen construction sites for new housing developments or placed indoors, mainly in shopping centres. Because an
advertising hoarding
is designed to catch attention, they generally only include a few words printed in very large fonts and depict eye catching graphics in very bright colours.
Advertising hoarding
is a very cost effective way of displaying advertising and is widely used to promote marketing messages by global brands such as banks, telecommunication companies, movie companies and car manufacturers. Charities and governmental agencies also use them to communicate with the general public.
Superchrome – Specialist Advertising Hoarding Supplier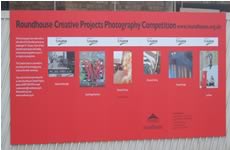 As a specialist large format digital printing company, Superchrome uses the latest digital printing technology to produce high quality 
advertising hoarding
 suitable for outdoor and indoor displays, for shop openings, product launches and construction sites. The service provided by our talented team of designers and print specialists is unbeatable and offered at very competitive prices.
Superchrome offers three types of 
advertising hoarding 
to suit the client's intended use and budget:
Self adhesive

- Hoardings graphics are printed on self adhesive vinyl or laminated paper which can be mounted on MDF, foamex, Dibond or aluminium. The adhesive substrate can have an anti graffiti coating and if the hoardings are intended for long term use they can be covered with Perspex to protect them against damage from the elements.

Direct printing

– Hoardings can be printed directly onto vinyl sheets and other printing materials such as high quality Foamex which is available in different thicknesses (1 mm, 3 mm, 5 mm or 10mm) so you can specify the amount of flexibility that you need. Rigid 10 mm Foamex graphics can be directly fixed to hoard frames using screws. Our Foamex hoardings are exceptionally durable. They can withstand thermal expansion and are resistant to fading even in strong direct sunlight.
A cheaper option is to use standard 24 sheet posters pasted onto hoardings. These are printed on heavier high quality 120gsm billboard poster paper which offers greater tear resistance and is blue backed for reduced show through of previous posters.
We work from digital files and can provide a high resolution drum scanning service for transparencies and images. Our graphic design service will take care of the restoration and retouching of images before printing if necessary. Once the printing is done, we also offer an optional installation service. Our team of professional installers will fit any advertising hoarding  and ensure it complies with health and safety regulations.
Our Clients
The BBC, Marks and Spencer, Titanic Exhibition-Trocadero London, Foster and Partners, BPR Architects are some of the companies that have used Superchrome's high quality digital print services for their
advertising hoarding 
.
CONTACT SUPPORT
Every file that you upload will be managed by an account representative to ensure that your
order receives the attention it needs.