Digital Billboards Advertising
Billboard Advertising Specialists
» Click here to View Related Links
WHAT IS BILLBOARDS ?
Billboards are large outdoor panels found on the side of roads and streets or on buildings. Mainly use for advertising purposes, billboards target drivers and pedestrians. The high impact they create make billboards one of the preferred outdoor advertising media to create awareness of a brand, a product or a service. Billboards are usually designed using large images and few words.
WHAT WE ARE OFFERING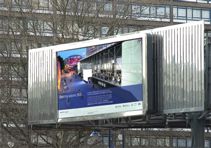 Superchrome has years of experience in the production of powerful digital billboards. Billboards produced by Superchrome offer low production costs and fast turn around times. Using the latest printing technology, we will produce high quality billboards up to 5m wide.
Outdoor Digital Billboards Advertising Services
Digital billboard printing is a printing method that produces prints directly from a computer file rather than a slide or a photograph, without going through some intermediate medium such as a film negative, a colour proof or a plate. The benefits of digital printing include faster turnaround times, lowered production costs, and the ability to personalise documents. Digital billboard printing is frequently used for on-demand or short-run colour printing. The printed information is encoded in discrete, digital dots at various resolutions thus providing versatility and enabling scanning into storage and manipulation of data. In short, digital printing is very cost-effective on short print runs, has the advantage of low set up costs, no minimum volume run and can be done on many substrates.
If you would like more information about Superchrome's billboards, Call
020 7237 9333
or
Email:
sales@superchrome.co.uk
CONTACT SUPPORT
Every file that you upload will be managed by an account representative to ensure that your
order receives the attention it needs.