Advertising Hoardings
Looking for advertising hoardings? Superchrome supply large format hoarding in a range of sizes and styles to meet our customer's needs. We supply, print, deliver and erect advertising hoardings.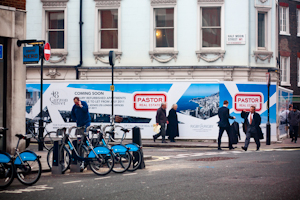 Superchrome print up to 1200 dpi with high quality, durable HP inks onto a variety of top quality substrates that are made to last indoors and outside. We print using the latest HP large format printers.
Our team of customer services representatives are always ready to help with any order. If you have a custom job in mind, let us know, as we are specialists in custom orders and creative graphic design.
Corex and Foamex Advertising Hoardings
Corex is our cheapest substrate. It is good for temporary signage, such as estate agent signs or short-term construction site hoardings.
Foamex is Superchrome's most popular products for advertising hoardings. Your text and image is printed onto 1mm, 3mm, 5mm and 10mm thicknesses of Foamex, a light, but strong, plastic signage board with a corrugated centre.
Even more choice of Substrate for Advertising Hoardings with Superchrome
Superchrome prints onto graphic paper, poster paper or photo paper and adhere to self-adhesive vinyl. We mount each print onto a Foamex or MDF backing. All advertising hoardings can be laminated to further protect from the elements, including wind, rain and sunlight. We use UV inks to protect from fading in strong sun too. We frame prints under Perspex sheeting when you need long term advertising hoardings.
For even cheaper hoarding, we print onto blue backed poster paper to any size. Blue backed poster paper is stronger than graphic papers and therefore, will not tear easily. Ideal for pasting onto MDF Boards or over old advertising.
Large Format Advertising Hoardings Longer Term
Choose Dibond, a strong aluminium composite with a polythene centre, for a longer-term advertising hoarding. Dibond will not rust, chip, crack or age outdoors and provides a smooth service for your printing. We print onto self-adhesive vinyl that can be mounted onto Dibond, and then we laminate.
Order Advertising Hoardings from Superchrome today
Are you ready to order advertising hoardings from the team at Superchrome or would you prefer to speak to one of our graphic designers or customer services?
Please contact Superchrome in any of the following ways:
Superchrome is always happy to help with your order.
CONTACT SUPPORT
Every file that you upload will be managed by an account representative to ensure that your
order receives the attention it needs.