OUR CLIENTS
» Click here to View Related Links
MUSEUMS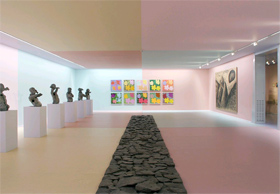 Superchrome specialises in museums displays and graphics. We can produce large format panels and graphics walls up to 5m wide, photographic prints, vinyl transparent banners made from fibreglass, acetate, frosted vinyl and tracing paper, high resolution printing with UV inks onto silver foil, murals printed on paper and sealed to foamex as well as graphics printed on fine art paper boned to foamex. We can also produce high-resolution drum scans from images and our team of graphic designers will carry out the retouching of images if necessary. Our experienced team of installers will organise the installation and removal of any museum display.
Superchrome carries out projects for independent museums and national museums. The most common print jobs for museums such information boards, museums signage, artist prints and photographic for museums exhibitions and art galleries, art reproduction of museums collections can be arranged for high quality results at very competitive prices. Find out list of our museum clients and our work below.
CONTACT SUPPORT
Every file that you upload will be managed by an account representative to ensure that your
order receives the attention it needs.