MUSEUMS
» Click here to View Related Links
NATIONAL MARITIME MUSEUM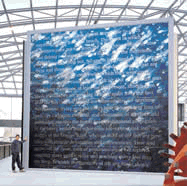 It is big it is clever
First ever high resolution printing with UV inks onto silver foil. 7m x 7m continuous image split in to 30 sections. Mounted, sealed and installed in the Neptune Court of the National Maritime Museum, Greenwich.
Designed by 3D concept
CONTACT SUPPORT
Every file that you upload will be managed by an account representative to ensure that your
order receives the attention it needs.