MUSEUMS
» Click here to View Related Links
ART NOUVEAU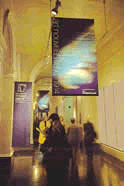 Tracing the history of art
Art Nouveau 1890-1914 at the V&A. 31 printed on tracing paper and mounted behind polycarbonate to give a 'frosted' effect. Translates mounted behind acrylic. Murals printed on paper and sealed to Foamex, up to 4m x 3m. Additional graphics printed on fine art paper boned to Foamex. 48 panels throughout the exhibition. Total produced time: 3 weeks. All scanning, retouching and installation by Superchrome.
Designed by V&A design department
CONTACT SUPPORT
Every file that you upload will be managed by an account representative to ensure that your
order receives the attention it needs.