Motorcycle Graphics Wraps
Motorcycle Graphics Wraps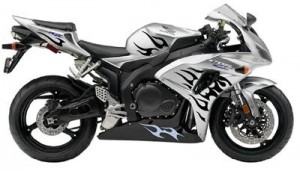 Turn your motorcycle into an amazing designed vehicle using motorcycle graphics wraps solutions offered by Superchrome. We are a recognized vehicle wrapping provider in the UK, delivering affordable solutions for various business and individual needs. At Superchrome, we have experience in wrapping any type of vehicle including cars, SUVs, trucks, buses, trailers and fleet vehicles.
London Motorcycle Vinyl Wraps and Graphics
At Superchrome, we have full-line of graphics solutions for motorcycle enthusiasts. With custom graphic designing, we can turn your motorcycle from plain to fantastic looking. We offer specialized custom-made graphics wraps for all leading sports bikes. We also provide motorcycle wraps for various advertising and promotional requirements. Top quality wraps can be created using your company name, logos or special text messages. Whether driving through traffic or parked on the roads, your custom wrapped vehicle will easily grab the attention of every passerby.
Using the highest quality designing and printing techniques, we can create digital graphics that look stunning and professional. Our full colour graphics features vibrant colour quality and highest resolution possible. Our designers can create custom artwork from your own designs or ideas. From design to installation, we handle every process carefully and ensure full-service motorcycle graphics wraps solutions for our customers.
Custom Motorcycle Vinyl Graphics and Wraps
We use the highest grade vinyl material to print your motorcycle graphics wraps. All our vehicle wraps ensure high fade resistance and are provided with long-term warranty. Our digitally printed vinyl graphics are directly adhered to your motorcycle and it provides a custom painted look. Our wraps also protect your bike exterior from minor abrasions and outdoor conditions. Proper fitting of motorcycle wraps will be done by our professional installers. Our wraps can be easily removed without causing damage to the original paintwork of your vehicle.
To know more about our London motorcycle graphics wraps solutions, custom motorcycle graphics and custom motorcycle wraps, call us on 020 7237 9333 or mail us at sales@superchrome.co.uk.
CONTACT SUPPORT
Every file that you upload will
be managed by an account
representative to ensure that
your order receives the
attention it needs.