Custom Motorcycle Graphics
Custom Motorcycle Graphics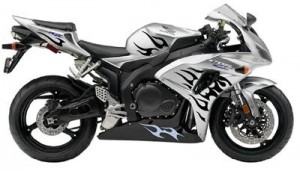 Custom graphics can add a unique personalised touch to your motorcycle. Superchrome is a reliable vehicle graphics and vehicle wraps provider in the UK, offering specialised custom motorcycle graphics solutions. With custom-made graphic designing services, we will help you to personalise your vehicle and make it more attractive and unique.
London Motorcycle Graphics Decals
At Superchrome, we offer a vast selection of custom motorcycle graphics in a variety of motorcycle decals and motorcycle wraps. With unique, eye-catching graphics, we can turn your motorcycle into a unique work of art. We offer high quality graphics for all types of motorcycles including sports motorcycles and touring motorcycles. We can create customised graphics to suit your motorcycle's body. Just give us the details and specifications of your motorcycle and our expert graphic designers can create the right graphics for your vehicle.
Striking custom graphics effectively draw attention to your motorcycle and there is no need to add additional accessories to your vehicle. Highest quality motorcycle graphics we provide can make your bike standout from the crowd. Whatever type of designs you are looking for, flames, skulls, fire or tribal designs, we have thousands of unique designs for your requirements. If you want to create a unique graphics from your own design, just send your design to us. Our graphic experts can work with your specific design requirements.
Custom Vinyl Motorcycle Graphics and Vinyl Stickers
Our custom created graphics can be easily applied on any part of your bikes. Produced in quality vinyl material, our custom motorcycle graphics ensure great visual effects. All our graphics are available in different colour versions, sizes and shapes you like. Our custom vinyl graphics are specially designed to withstand all weather conditions and ensure long-term durability.
Please call us on 020 7237 9333 and discuss your specific requirements for custom motorcycle graphics with our professional staff. You can also email us at sales@superchrome.co.uk with any questions that you may have.
CONTACT SUPPORT
Every file that you upload will
be managed by an account
representative to ensure that
your order receives the
attention it needs.