Bus Wraps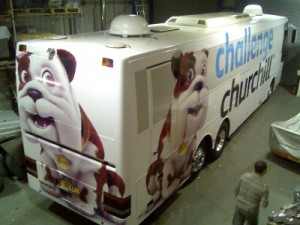 Turn your vehicle into powerful moving billboard using vehicle wrapping solutions offered by Superchrome. At Superchrome, we are a leading vehicle wraps and vehicle graphics provider in the UK, offering cost-effective solutions for all type of businesses. We specialize in designing and printing of bus wraps and decals. Our London vehicle wrapping solutions include car wraps, van wraps, truck wraps, bus wraps and fleet wraps.
London Bus Wrap Advertising
Mobile advertising is much more affordable than any other advertising media. Superchrome offers top quality bus wrapping solutions for individual customers as well as large businesses. Eye-catching bus wraps we provide are an effective medium to advertise or promote your products and services. Bus wrap advertisement helps you to convey your promotional message to on-the-go customers.
Using advanced designing and printing techniques, we provide professional quality designing, manufacturing and installation of vinyl bus wraps. With full wrapping, entire body of the bus is wrapped in a creative way as per your design specifications. We also provide partial vehicle wrapping to meet various business advertising requirements. With vibrant colours and design features, our bus advertising wraps appear as a regular paint finish on your vehicle.
Custom Vinyl Bus Wrapping Solutions
We provide quality bus wrapping services made of durable vinyl material. Printed using solvent inks and laminated with protective coating, our bus wrap advertising ensures protection from regular wear and tear. Application and removal of our vehicle wraps is quick and easy and it does not cause any damage to the original paintwork of your vehicle. Quality vinyl wrapping also protects your vehicle from outdoor weather conditions. We understand your urgent marketing needs and provide you the best cost-effective solution within fast turnaround time.
To know more about our London bus wraps and bus wrap advertising services contact us at 020 7237 9333. Our expert staff will assist you in branding your business and services. To request for a quote through mail, please mail us at sales@superchrome.co.uk.
CONTACT SUPPORT
Every file that you upload will
be managed by an account
representative to ensure that
your order receives the
attention it needs.