Bus Graphics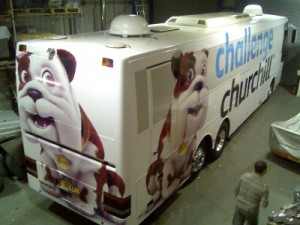 Installing eye-catching graphics on your bus makes your vehicle a perfect mobile advertising tool. At Superchrome, we are a full service London vehicle wrapping company specializing in bus wraps, vehicle graphics and custom bus graphics in the UK. We offer cost-effective mobile advertising solutions to promote your business or services. With fast and reliable large format digital printing technology, we provide an easy and affordable marketing solution to enhance your brand recognition.
London Vinyl Bus Decals and Graphics
From simple bus decals to excellent full vehicle wraps, Superchrome offers a complete advertising and display solution for various business requirements. We offer top quality, durable bus vinyl graphics wraps for all type of buses including public transport buses, tour buses, promotional buses and road show buses. Whatever be your bus vinyl graphics needs; advertisement campaigns, new product launches or event promotions, we can design the perfect solution for you.
Superchrome provides custom bus graphics and vinyl bus wraps for individual businesses as well as large corporations. From designing to installation, we carefully handle each process and ensure full-service for your mobile advertising needs. Our graphic designers can work with you to make your vehicle really stand out. We offer full body as well as partial bus advertising graphics to suit your display requirements.
Custom Bus Advertising Wraps and Graphics
Using the latest graphic design techniques, we provide top quality bus graphics that effectively represent your business or products. Eye-catching designs with vibrant colours can effectively communicate your message to targeted audiences. We use premium quality vinyl material for printing that ensures best outdoor performance and durability. Adhesive vinyl graphics are easy to remove and do not cause damage to your bus's exterior. We have in-house installation experts to perfectly install any type of bus wraps and vehicle graphics.
If you want to know more about our London bus graphics, vehicle graphics and bus wrap advertising services, please contact our service staff on 020 7237 9333. You can also mail your requirements to sales@superchrome.co.uk. Our professional staff will assist you in choosing the right solution for your business marketing needs.
CONTACT SUPPORT
Every file that you upload will
be managed by an account
representative to ensure that
your order receives the
attention it needs.