RETAIL
» Click here to View Related Links
THOMAS GOODE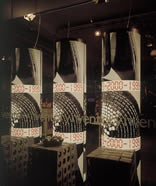 These frosted vinyl banners hung in the windows of Thomas Goode store in South Audley Street, London, utilize direct sunlight for maximum effect. All 3m x 1200mm.
Designed by Yellow Door
CONTACT SUPPORT
Every file that you upload will be managed by an account representative to ensure that your
order receives the attention it needs.