RETAIL
» Click here to View Related Links
REISS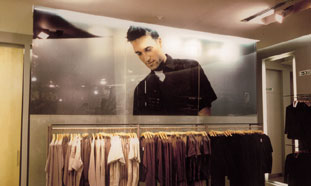 Being two-faced at Blue Water
For the window display of the Reiss store in Blue Water, Kent, we placed a solid image of a face on to an MDF panel and then printed the same face on to an acetates sheet and hung it directly in front to create a 3D effect. Inside, we mounted printed acetate sheets behind glass sections and attached them to the ceiling.
Designed by Kate Henderson
CONTACT SUPPORT
Every file that you upload will be managed by an account representative to ensure that your
order receives the attention it needs.