Digital Poster Print Size
Digital Poster Print Size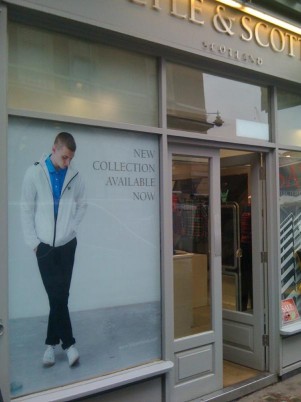 As the
digital poster print size
has a direct impact on capturing the viewer's attention, choosing the right measurement for your digital poster print is an essential step in the digital printing process. We at
Superchrome
can design poster prints of the right size that will get you maximum exposure and increased product sales. We are a leading large format digital printing company in the UK, specializing in a variety of indoor and outdoor display and promotional products, applications and graphics.
We at
Superchrome
realize the increasing relevance of digital poster prints in trade shows, conferences, business meetings, advertising events, and for other promotional and presentation purposes. To meet the growing digital printing needs, we provide prints in all styles and sizes by utilizing our state-of-the-art digital printing technologies. We can print posters up to 60" wide at 1200x2400 dpi, in many different finishes such as matte, satin, or photo gloss.
Choosing an appropriate
digital poster print size
is the first requirement in digital poster printing. Digital poster print sizes differ from application to application. We at
Superchrome
can give the right digital poster printing consultation based on our customers' specifications. We give due consideration to choosing the right size and printing materials to make your digital poster prints attractive and attention-grabbing.
Our extensive and ultra modern digital printing capabilities allow us to print posters in both custom designed and standard sizes. Our digital poster prints are available in sizes ranging from 8.5x11 inches, 11x17 inches, 12x18 inches, 14x20 inches, 17x22 inches, 18x24 inches, 20x24 inches, 20x28 inches, 22x28 inches, 22x34 inches, 24x36 inches, 26x38 inches, 28x40 and 50x76 inches. Our standard digital poster size is 24" x 36", which is ideal for both horizontal and vertical application.
Whether you need a small poster print or an oversized one,
Superchrome
can provide either. For more information regarding our digital poster print size, please contact us via telephone or e-mail.
Are you interested in knowing more about our services in
digital poster print size
and other areas of specialization? Then visit our website www.superchrome.co.uk. Talk to our customer representatives for detailed information in
digital poster print size
.Contact us
020 7237 9333
or fax
020 7237 9444
or email:
sales@superchrome.co.uk
.
CONTACT SUPPORT
Every file that you upload will
be managed by an account
representative to ensure that
your order receives the
attention it needs.