A0 Poster Printing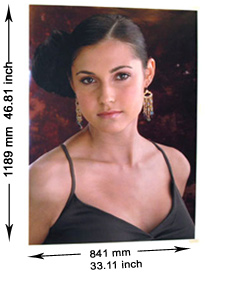 Are you looking to promote a message, make a statement or advertise an event? Then why not consider the A0 poster printing services by London-based digital printing company Superchrome. With the high-quality image reproduction and finish on offer, the poster printing is among the most popular services available at Superchrome.
The size of your print has a direct impact on capturing the public's attention, so choosing the appropriate measurement for your poster is an essential step in the printing process. Superchrome specialises in standard and customised large format print sizes, such as A0 poster printing and A0 posters (841 mm × 1189 mm). These large poster prints are great promotional tools that can advertise and highlight products and services to a wide audience. Posters could be used for anything from trade shows and conferences to galleries and retail environments. They can also be effective in interior design.
A0 poster printing is able to:
Advertise products or services in an attention-grabbing manner
Promote events and exhibitions
Get a good turn-out for your corporate conference or private party
Enhance the ambiance of the home or office
London A0 Poster Printing Services
The poster materials used at Superchrome are extremely high quality and are printed with long-lasting inks. This means that the A0 posters (841 mm × 1189 mm) are both eye-catching, as well as sturdy enough to resist tearing and fading. The posters can be fit with weather proof and anti-graffiti laminates to increase their durability.
The team at Superchrome will happily guide you through the A0 poster printing process, from helping you pick out a template or customising your own design. They will also offer advice on the best choices in graphics, colour and finish available. It doesn't matter if you'd prefer to keep the design simple or create an elaborate poster with eye catching images and bright colours, Superchrome is certain to have the display solution for you!
London Large Format Full Colour A0 Posters
The team have years of hands-on design and printing experience, so you can rest easy knowing that you are in expert hands. Superchrome also uses the most up-to-date digital printing technologies so that the services are professional, yet still efficient and affordable. The comprehensive range of A0 poster printing services available can comply with a broad range of schedule and budget constraints. The quoting at Superchrome is guaranteed and deadlines are always met.
If you think that the high quality A0 posters and high impact A0 poster printing services may be the solution for any of your display or advertising needs then contact Superchrome today! To do so please telephone 020 7237 9333 or email sales@superchrome.co.uk.
CONTACT SUPPORT
Every file that you upload will
be managed by an account
representative to ensure that
your order receives the
attention it needs.