Photo Printing on Canvas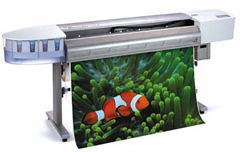 If you want to give your priceless digital or scanned photos a truly artistic look, then print them onto canvas.
Photo printing on canvas
is one of the major advancements in the printing industry today. Here at
Superchrome
, a leading large format digital printing company, we can help you create canvas photo prints utilizing our premium canvas photo printing technologies.
Photo printing on canvas
is one of the specialized artworks or photo reproduction services provided at
Superchrome
. Superchrome digital printing facilities comprise ultra modern state-of-the-art printing and scanning equipment which guarantees high image quality, high speed and high resolution printing. Besides, we have the best printing professionals and software experts on our staff.
Unlike other printing materials, canvas has an artistic texture with superb color saturation.
Photo printing on canvas
is a perfect way to enhance your favorite photos. Photo canvas prints are great as unique gifts for any special occasion and will be truly appreciated. We at
Superchrome
can print your photos on both heavy and light versions of canvas substrates. We use only scratch resistant, archival grade inks offering rich colors and great print permanence. And these prints are available in matte, gloss or semi-gloss finishes.
Printed on Canvas + Seal
Plus Design: £95
Discount Prices
Canvas Prints
x1
x4
x10
A2: 420x594mm, 16.5x23.5"
£ 48
£ 154
£ 296
A1: 594x841mm, 23.5x33.25"
£ 65
£ 214
£382
A0: 841x1189mm, 33.2x46.8"
£ 74
£ 235
£ 441
2A0: 1189x1682mm, 46.8x66.4"
£ 144
£ 488
£ 1080
20x30", 508x762mm
£ 68
£ 218
£ 380
30x40", 762x1016mm
£ 76
£ 239
£ 451
60x40", 1016x1524mm
£ 85
£ 265
£ 518
Canvas Prints Stretched (Frames)
x1
x4
x10
2A0 (1189 x 1682)
£ 288
£ 976
£ 2160
AO (841 x 1189)
£ 145
£ 492
£ 1090
A1 (594 x 841)
£ 98
£ 336
£ 780
A2 (420 x 594)
£ 75
£ 252
£ 600
A3 (297 x 420)
£ 55
£ 192
£ 440
A4 (210 x 297)
£ 30
£ 104
£ 230
Superchrome
photo canvas prints will last for generations. They ensure color quality, image definition, fade-resistance, smudge-resistance, and water-resistance. We can also provide superior quality stretcher frames on request and lamination services for extra protection for your canvas photo prints. In addition, we also provide retouching, exposure correction, photo resizing and formatting services as part of our
photo canvas printing
services.
Transform your favorite photos into stunning pieces of art by printing onto canvas with
Superchrome
. You can give us you photos as negatives, digital files or scanned images with your specifications. The major digital file formats we accept for photo canvas reproduction are .JPG, .BMP, .PNG, .PDF, .PSD, .PCX, .EPS, .TIF, .TIFF and .TGA. For details about our
photo printing on canvas
, please contact us via e-mail or telephone.
Contact us
020 7237 9333
or fax
020 7237 9444
or email sales@superchrome.co.uk. Our experienced personnel would be able to guide you appropriately.
CONTACT SUPPORT
Every file that you upload will
be managed by an account
representative to ensure that
your order receives the
attention it needs.