Inkjet Printing on Canvas
Inkjet Printing on Canvas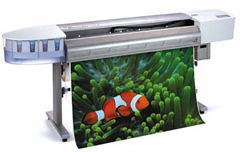 Superchrome
is one of the leading suppliers of canvas print services. Famed photographers, artists and interior designers across the world make use of our
inkjet printing on canvas
to turn their photos and artworks into amazing masterpieces. We employ various methods in printing fine art and photographs on canvas using inkjet printers. Because of our relative low production costs and multi-use inkjet printing capabilities, inkjet printing on canvas at Superchrome has emerged as a perfect choice for small as well as large business organizations that require bulk printing projects.
Inkjet printing on canvas is done by high quality inkjet printers that are easy to use and capable of printing at high speed and at reduced ink costs. Our inkjet printers can deliver superb quality photos, since we utilize various techniques to improve the inkjet printing resolution.
Superchrome
inkjet printing applies fast drying, water-based inks on the canvas. We use a print-head that is driven by a belt-fed motor that prints across the paper neatly and without spreading. The print-heads are upgraded for performing monochrome as well as colour printing, reproducing the images with nearly the same quality as the original masterpiece. At Superchrome, we use 100% pure 340 gms cotton or cotton-polyester canvas for inkjet printing.
Printed on Canvas + Seal
Plus Design: £95
Discount Prices
Canvas Prints
x1
x4
x10
A2: 420x594mm, 16.5x23.5"
£ 48
£ 154
£ 296
A1: 594x841mm, 23.5x33.25"
£ 65
£ 214
£382
A0: 841x1189mm, 33.2x46.8"
£ 74
£ 235
£ 441
2A0: 1189x1682mm, 46.8x66.4"
£ 144
£ 488
£ 1080
20x30", 508x762mm
£ 68
£ 218
£ 380
30x40", 762x1016mm
£ 76
£ 239
£ 451
60x40", 1016x1524mm
£ 85
£ 265
£ 518
Canvas Prints Stretched (Frames)
x1
x4
x10
2A0 (1189 x 1682)
£ 288
£ 976
£ 2160
AO (841 x 1189)
£ 145
£ 492
£ 1090
A1 (594 x 841)
£ 98
£ 336
£ 780
A2 (420 x 594)
£ 75
£ 252
£ 600
A3 (297 x 420)
£ 55
£ 192
£ 440
A4 (210 x 297)
£ 30
£ 104
£ 230
Our canvas prints are given added protective coating to resist damages from scratches or splashes as well as to provide UV stability. The other superior features of our inkjet canvas printing are crack-resistant canvas print, water resistance, wider color range and high durability, better color matching, maximum resistance to fading and moisture, natural texture and so on.
Superchrome
digital online printing is rather inexpensive and time-saving as we copy and print photos directly from your PC's. If you are looking for a reliable company that can print your photos, artwork and business materials directly onto real canvas with inkjet printers, feel free to contact us any time by phone or e-mail.
Our prints are delivered bubble wrapped if stretched and sent by Royal Mail. Contact us for quotes. We assure a fast turn over time of just two to three days. Our high quality canvas photograph prints are very competitively priced.
If you would like to know more about
inkjet printing on canvas
, any of the projects shown or if you want to discuss any project you have coming up then contact us
020 7237 9333
or fax
020 7237 9444
or email sales@superchrome.co.uk. Our experienced personnel would be able to guide you appropriately.
CONTACT SUPPORT
Every file that you upload will
be managed by an account
representative to ensure that
your order receives the
attention it needs.