Canvas Giclee Printers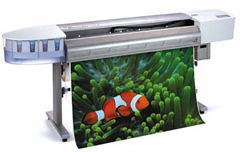 Superchrome
, the fast growing large format digital printing company, possesses the best canvas giclee printers available in the market; our
canvas giclee printers
enable us to create amazing giclee prints on canvas and several other media according to client specification. Compared to other printers, our canvas giclee printers are easy to use, versatile, have rapid image processing capacity, and possess advanced image editing tools and high quality image reproduction.
With our
canvas giclee printers
, pictures are extracted through high resolution digital scanning and printed with archival quality inks onto canvas. Printing with
canvas giclee printers
is expected to give first rate color accuracy. We utilize specialized 8 to 12 color ink-jet printers for giclee printing. Our superior printers are capable of creating exceptionally detailed prints for our clients. We employ printing processes that ensure high image stability and the use of lightfast pigment inks increases the print life.
Printed on Canvas + Seal
Plus Design: £95
Discount Prices
Canvas Prints
x1
x4
x10
A2: 420x594mm, 16.5x23.5"
£ 48
£ 154
£ 296
A1: 594x841mm, 23.5x33.25"
£ 65
£ 214
£382
A0: 841x1189mm, 33.2x46.8"
£ 74
£ 235
£ 441
2A0: 1189x1682mm, 46.8x66.4"
£ 144
£ 488
£ 1080
20x30", 508x762mm
£ 68
£ 218
£ 380
30x40", 762x1016mm
£ 76
£ 239
£ 451
60x40", 1016x1524mm
£ 85
£ 265
£ 518
Canvas Prints Stretched (Frames)
x1
x4
x10
2A0 (1189 x 1682)
£ 288
£ 976
£ 2160
AO (841 x 1189)
£ 145
£ 492
£ 1090
A1 (594 x 841)
£ 98
£ 336
£ 780
A2 (420 x 594)
£ 75
£ 252
£ 600
A3 (297 x 420)
£ 55
£ 192
£ 440
A4 (210 x 297)
£ 30
£ 104
£ 230
Another remarkable property of our
canvas giclee printers
is that the artworks on canvas can be reproduced to any desirable size regardless of the media, thus offering the artists the opportunity to customize the prints as required. Our giclee prints are practically useful to artists or organizations that require mass production of their work; we undertake large volumes of digital giclee printing onto canvas with minimal cost and at fast turnarounds.
Employing the most recent imaging equipment and sophisticated technology, our printers can check minute gradations that are difficult to be detected and produce rare mixture of colors. Our
canvas giclee printers
are more durable than paper prints since they do not get wrinkled when rolled for mailing to our clients. We offer extra care to check that each and every print is audited for various quality factors, resolution, color correction, and size. We also offer canvas stretching and trimming services at nominal rates.
You are most welcome to discuss your ideas with us, visit our website for more information on our canvas giclee printers. Or else contact us by phone or e-mail.
If you would like to know more about
canvas giclee printers
, any of the projects shown or if you want to discuss any project you have coming up then contact us
020 7237 9333
or fax
020 7237 9444
or email sales@superchrome.co.uk. Our experienced personnel would be able to guide you appropriately.
CONTACT SUPPORT
Every file that you upload will
be managed by an account
representative to ensure that
your order receives the
attention it needs.