Teardrop Banners
The teardrop banner is an innovative display tool that ensures your messages and images are always visible, regardless of the weather conditions or space limitations. These versatile banners are available at Superchrome, a London-based digital printing company that prides themselves on offering high quality advertising products that serve an extensive range of commercial and non-commercial purposes throughout the UK.
The
teardrop banners
produced by Superchrome are easy to personalise and customers may choose from a comprehensive list of alternatives in: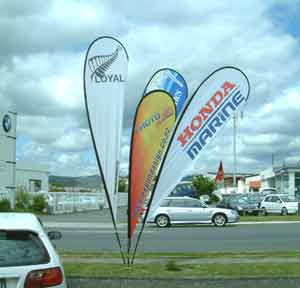 Single or double sided printing
Size and shape
Colour and graphics
Font and wording
Finish
Substrate
Hanging options
Special effects including borders and backgrounds
London Teardrop Banners and Flying Banners
If you wish to display a promotional message, increase brand awareness or advertise an upcoming event then a
teardrop banner
may be the ideal solution. They are effective and elegant but also very sturdy and weather resistant and therefore perfect for both indoor and outdoor use. As an alternate to the standard banner,
teardrop banners
can add a sense of uniqueness and flare to exhibitions, tradeshows, fundraisers, product launches and corporate events as well as private parties and special occasions. The
banner printing services
available at Superchrome are among the most innovative advertising solutions and are designed and printed by an experienced team of specialists. The practical knowledge of the staff as well as the industry leading facilities and premises results in the best quality printing service possible. Customer service is also of a high priority and the team at Superchrome will always endeavour to provide a friendly, approachable service whether you know exactly the design you require or need thorough guidance through the available options. Every individual customer is different and because of this, Superchrome attempts to comply with a wide range of budget and time constraints. They aim to deliver top notch
teardrop banners
within a timely and cost-effective manner, without compromising the quality. If you think that a
teardrop banner
may be the best way to add an original and innovative touch to your advertising or promotional techniques then contact Superchrome to discuss any questions, queries or quotes with a representative. You may do so by telephoning
020 7237 9333
or emailing
sales@superchrome.co.uk
. The team at Superchrome looks forward to hearing from you!
CONTACT SUPPORT
Every file that you upload will
be managed by an account
representative to ensure that
your order receives the
attention it needs.