Custom Banners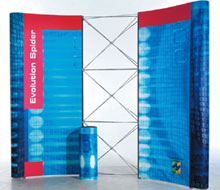 Having your products or services advertised through banners can greatly promote your business. The easy portability, flexibility and cost-effectiveness offered by banners make them the favorite marketing tool for business firms worldwide. In the UK, Superchrome is known for providing quality banner printing services with custom banner printing services also in the offering.
At Superchrome, all our
custom banners
are designed and printed in a highly eye-catching manner that they can immediately draw the attention of your potential customers. With the help of our expert professionals and dedicated graphics machines, we ensure that our banners are unique in design and style. All our banners maintain top quality and our usage of fade resistant inks and quality materials including vinyl, fabric and canvas help our banners last longer.
Custom Vinyl Banners - Custom Advertising Banners
For clients, all our banner design jobs are done based on individual requirements. Be it your corporate logo, your message or computer generated image of your product, we can print them on banners in varying sizes and specifications customized to client needs. With the help of our state-of-the-art digital printers, we can print all custom banners maintaining high resolution and also with less distortion in colour and image quality. Our
custom banner printing services
are being offered for a wide range of occasions including sporting events, tradeshows, exhibitions and business promotions. We also provide custom banner designs for non-profit organizations and non-commercial purposes such as weddings, parties and other social events.
Clients can either email their designs to us or directly submit their digital copies at our premises to get them printed. At Superchrome, we provide fast turnaround time of 24 hrs for all printing jobs. For further enquiries regarding our affordable custom banner printing services, custom vinyl banners, custom advertising banners or custom printed banners, do contact us on phone at +44 207 237 9333. You can also email your queries to sales@superchrome.co.uk.
CONTACT SUPPORT
Every file that you upload will
be managed by an account
representative to ensure that
your order receives the
attention it needs.