Banner Sign Printing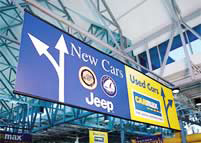 Banner sign printing is an ideal solution if you want to get a message out to the public. As a top-notch banner sign printing company centrally located in London in the United Kingdom, Superchrome provides its clients with a wide variety of banner signs that suit their needs, within minimum time and on budget.
Advertise your services and products! Our banner signs are suitable for all events and venues. In the business world, you can make a solid first impression through our banner signs highlighting your logo. These high visibility banner signs have the capability to highlight your business profile and advertise your products and services to your potential customers. Banner signs from Superchrome are extremely durable with powerful visual images that will promote your brand name and events.
London Banner Printing and Sign Printing Services
Being a leading
banner printing company
, Superchrome produces banner signs in a range of sizes and designs, from real estate banner signs to custom business banner signs to custom road banner signs and lots more. The banner sign prints we offer come with grommets so that the banners can be hung indoors or outdoors as required. Whatever your application needs may be, Superchrome has the practical experience in designing and printing a full range of banner signs, ranging from single-color banner signs to full-color banner signs. For full color indoor and outdoor
banner sign printing
service, we utilize state-of-the-art banner printing technology and world class techniques. Depending on your banner needs, we print them on premium quality substrates. To ensure maximum reflection and longevity of the prints even in harsh weather conditions, we make use of the latest ink technology.
If you want quality advertising, then make use of banner sign printing services from Superchrome. Just convey the message you wish to print and we will have it printed in the most impressive manner. You can forward your quotes via email - sales@superchrome.co.uk or on phone at 020 7237 9333.
CONTACT SUPPORT
Every file that you upload will
be managed by an account
representative to ensure that
your order receives the
attention it needs.